I dag har det vært godt og varmt vær. En av de få dagene vi får innimellom alt regnet. Joda, vi har fine dager innimellom, men som regel ikke med særlig varme. I dag har det altså vært varmt også. Akkurat som jeg liker det.
Og siden dagen kom med sol og varme, så var det naturlig for meg å innta en dose stråler for å fylle på D vitaminlageret. Og siden forrige gang med sol og varme, har jeg gått mer ned i vekt, og derfor kom jeg på at jeg skulle prøve å ta på meg den dyre bikinien jeg kjøpte ved forrige slanke periode. Og gjett hva?
Den passer ♥
Today came with warm and sunny weather. One of the few good days we get inbetween all the rainy days. We do have nice days inbetween of course, but usually not with a temperature that fits at a beach. But today was a warm day. Just the way I like it.
And since we got this weather, it was natural to collect some Vitamin D's. I have lost more weight since the last period with warm sun, and then I came to think I should try on the expencive bikini I bought the last slim period I had. And guess what?
It fits ♥
Jeg har tatt av 9-10 kilo siden november. I november begynte jeg på en endring i stoffskiftemedisineringen. Og det har virkelig gjort susen. Til å begynne med tok jeg av 5 kilo i løpet av 2 måneder. De siste 5 har gått litt tregere. Men jeg er fornøyd jeg med at det går av et kilo i måneden sånn cirka.
Jeg har nok hatt litt hjelp også disse siste månedene. Altså med kjærlighetssorg og alt styret med uførsøknaden som ble avslått. Det har nok bidratt litt. Men jeg ser jo at selv om jeg nå slapper helt av, og er ferdig med kjærlighetssorg og har roet meg med en ny sjanse hos NAV, så fortsetter jeg å gå ned. Noe som er helt magisk egentlig ♥
I have lost 9-10 kilos since November. In November I started with a change in my medications for low metabolism (sorry if this is might not be the right translation), and that has really worked the trick. The first 2 months I lost 5 kilos. It's been reduced more slowly since then. But I am very pleased with loosing about 1 kilo every month.
The past few months I have probably had some help from a broken heart too, and from the refusal to my disability application. But things are going much better now and life looks brighter. And even as it looks brighter, I still loose weight. And it's like magic ♥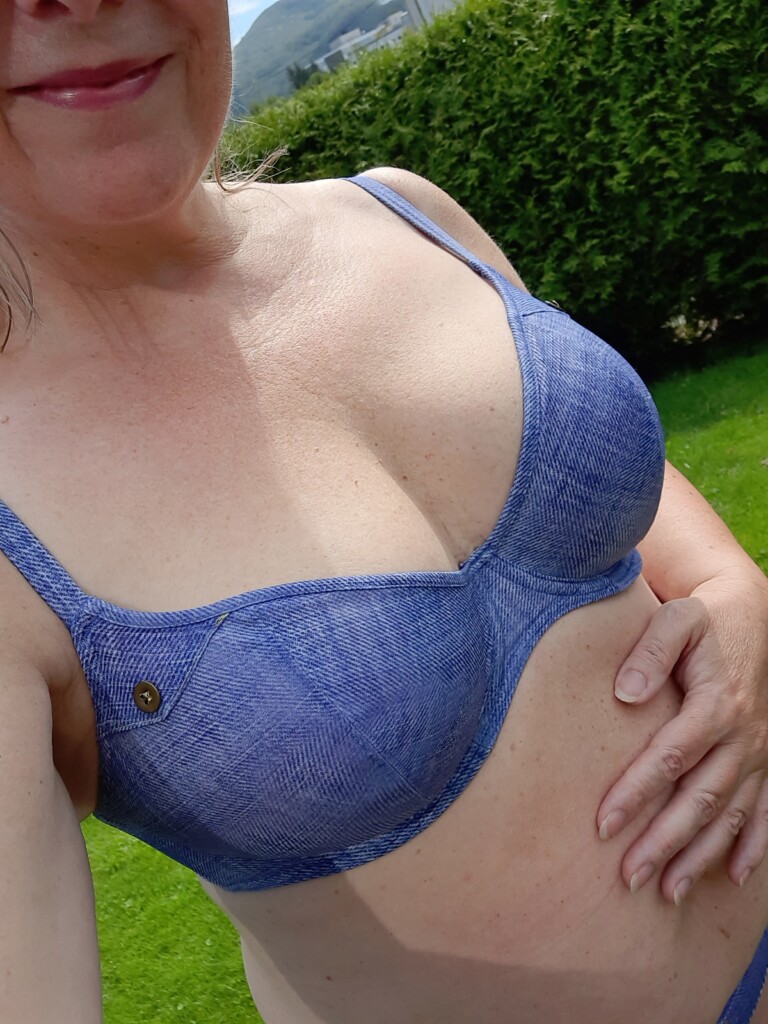 Disse bildene er tatt i dag. Det er ikke ofte jeg vifter med bikinibilder rundt omkring. Men akkurat i dag ville jeg vise at jeg snart har nådd vektmålet mitt. Det er faktisk bare 2 kilo igjen. Kanskje 3, for at jeg skal være helt fornøyd. Og det uten å gå på diett eller noe. Og det beviser vel at medisinene jeg tidligere har tatt har hatt leie bivirkninger, som vektøkning.
These photos were taken today. And it isn't often I flag bikiniphotos of myself all around. But today I wanted to show you that I have soon reached my weight goal. It's only 2 kilos left. Or maybe 3, if I should be totally satisfied. And all this, without being on a diet or anything. It proves that the medications I have been on earlier, have had terrible side effects.
Men så begynner jeg å kikke på BMI skalaen. Og når jeg regner ut vekt og høyde, så får jeg til resultat at jeg ligger rett oppunder Svært overvektig. Altså, jeg ligger på skalaen som sier Overvektig.
Den samme skalaen sier at jeg må gå ned 12 kilo til for å komme innenfor Normal vekt.
Jeg husker så godt da jeg hadde min forrige slanke periode for noen år siden. Den som kom av at jeg sluttet å spise. Da følte jeg at jeg var bare knokler og skinn. Og nå er det bare 2 kilo igjen til den vekta.
Jeg er ikke bare knokler og skinn. Langt i fra. Men jeg synes jeg ligger urettferdig høyt på den BMI skalaen altså. Like oppunder Svært overvektig. Jeg kan liksom ikke helt fatte akkurat det.
Og nå har jeg sittet her og forsøkt meg flere ganger på BMI kalkulatorer rundt om, og de sier alle det samme. Jeg er overvektig, nesten svært overvektig. Så nå lurer jeg på om jeg bør øke målet mitt. Er det overhodet realistisk å skulle klare å gå ned 12 kilo til, bare for å komme inn under normalen? Hva er igjen av meg da, hvis jeg når det målet? Hule kinn og innovermage? Jeg vet ikke helt jeg.
Det viktigste er kanskje å trives med seg selv. Og det gjør jeg nå. Men jeg er jo redd for livsstilssykdommer. Jeg har mange nok diagnoser. Jeg trenger ikke flere. Så da vil jeg satse på å miste et par kilo til. Da vil jeg føle meg litt tryggere.
Then I start looking at the BMI scale. And when I calculate weight and heigth, the result tell me I am nearly Very Overweight. In other words, I am on top of the scale that says I am Overweight.
The same BMI scale tells me I must loose 12 more kilos to reach Normal Weight.
I remember so well my last slim period some years back. It came because I stopped eating. I was depressed. I felt like I was only skin and bones. And now it is 2 kilos until I am there, skin and bones. 
Of course I am not just skin and bones. But I do feel I am unfairly far on top of that Overweight BMI scale. I can not believe it.
And now I have tried different BMI calculators around, and they all tell me the same. I am overweight, almost very overweight. I do wonder if I should change my goal to loose more weight than just 2, to reach the BMI Normal weight? Is it at all realistic to loose as much as 12 kilos just to reach a normal BMI? What will be left of me if I reach that goal? Hollow cheeks and a stomach that goes in and not out? I don't know!
The most important thing is to be happy with myself I think. And I am there now. But I am still afraid of lifestyle diseases. I have enough diagnoses already. I don't need more. So after some thinking, I will loose a few more kilos, and then feel a little more safe.
Har du noen tanker om BMI og hva som kanskje kunne være riktig?
Have you got any thoughts about the BMI scale and what could possibly be correct?