Her om dagen ble jeg oppringt av min gode venn, Tommy. Han lurte på om jeg hadde lyst å være med på en hytteovernatting? Og før jeg nådde å svare, forklarte han at hytten ikke var som andre hytter, og fortalte litt om hytten og konseptet.
Dette viste seg å være helt i min gate, og faktisk også noe som har stått på min bucket-list. Så jeg takket selvsagt ja ♥
The other day I was called by my good friend, Tommy. He wondered if I wanted to join a cabin overnight stay? And before I could answer, he explained that the cabin was not like other cabins, and told a little about the cabin and the concept.
This turned out to be completely in my interest, and in fact also something that has been on my bucket list. So of course I said yes ♥
Hytten(e) kalles for The Bolder Sky Lodge, og ligger på Forsand, ikke langt fra den litt mer berømte Preikestolen. Prisen for døgnleie er rimelig stiv, og fascilitetene er av kategorien luksus. Dette er ikke noe for min lommebok dessverre, om det da ikke skulle være en ekstra spesiell anledning som jeg har spart lenge til. Men jeg var så heldig å bli invitert med, og fikk opplevelsen uten annen kostnad enn mat og drikke. Men om jeg vinner i lotto en gang, så skal jeg jammen ta den lille familien min med meg hit, det er nå helt sikkert. For denne opplevelsen var spektakulær ♥
The cabin (s) is called The Bolder Sky Lodge, and is located on Forsand, not far from the slightly more famous Pulpit Rock. The price for daily rent is reasonably rigid, and the facilities are of the luxury category. This is not something for my wallet unfortunately, if it shouldn't be an extra special occasion that I have saved for a long time. But I was so lucky to be invited, and got the experience at no other cost than food and drink. But if I win the lottery once, I'll take my little family with me here, it's for sure. Because this experience was spectacular ♥
Hytteprosjektet er omtalt internasjonalt, bl.a. i det amerikanske tidsskriftet Forbes, som ett av "25 surprising places to sleep". Og det er kanskje ikke rart at det er et overraskende sted å sove, da hytten står stødig plassert på kun ett ben.
Eller var det nå egentlig så stødig? For det hadde seg nemlig sånn at vi overnattet der under oppbyggingen av stormen Frank, og vi merket da tydelig at hytten ristet og svaiet godt i vinden. Men jeg må innrømme at selv om det kunne føles litt skummelt, så var det likevel trygt. De hadde vel ikke bygget en sånn hytte i vindfulle Rogaland om det skulle vise seg å være en svak konstruksjon. En opplevelse av de helt sjeldne var det i alle fall 🙂
The cabin project is discussed internationally, i.a. in the American magazine Forbes, as one of "25 surprising places to sleep". And it is perhaps no wonder that it is a surprising place to sleep, as the cottage is firmly placed on only one leg.
Or was it really so steady now? Because it so happened that we spent the night there during the construction of the storm Frank, and we then clearly noticed that the cabin shook and swayed well in the wind. But I have to admit that even though it might feel a little scary, it was still safe. They probably would not have built such a cabin in windy Rogaland if it turned out to be a weak construction. It was an experience of the very rare at least 🙂
Ettersom jeg forsto er kledningen i Sedertre. Egenskapen til det materialet er at det får en grå patina, og når det blir fuktig blir det gyllent i fargen. Det kan man se her på bildene fra begge sider av hytten.
As I understand it, the wood covering the cabin is in Cedar. The function of that material is that it gets a gray patina, and when it gets damp it turns golden in color. This can be seen here in the pictures from both sides of the cabin.
Vi ankom om kvelden, så da var det ikke så lett å se hva som var på utsiden. Men på innsiden viste det seg å være eksklusivt interiør og velutstyrt med alt man kunne drømme om å trenge. En vinflaske sto på bordet og ventet på oss, så vi slappet godt av med god vin ved de store panoramavinduene. Ikke at vi så veldig mye i mørket, men vi kunne skimte lysene i Forsand i det fjerne. Vinen smakte godt, og det var en lun stemning.
We arrived in the evening, so then it was not so easy to see what was outside. But inside it turned out to be exclusive interior and well equipped with everything one could dream of needing. A bottle of wine was on the table waiting for us, so we relaxed well with good wine by the large panoramic windows. Not that we saw much in the dark, but we could see the lights in Forsand in the distance. The wine tasted good and there was a warm atmosphere.
Som tidligere nevnt, manglet ingenting i hytten. Gulvet var varmt og godt med gulvvarme i første etasjen, og i gulvet på badet.
Det var store vinduer sånn at man kunne nyte den flotte naturen og utsikten. Et lite kjøkken var det også, med romslig kjøleskap, oppvaskmaskin, kaffemaskin og det hele. I oppholdsrommet var et flott spisebord med 4 stoler. En hvilestol var det også, og en vifteovn. TV var det også, men den brukte ikke vi. I overetasjen var bad med dusj og fine såpeartikler. 2 soverom var det oppe. Med 2 senger i hvert rom. Masterbedroom var utstyrt med regulerbare senger med massasje. Og panoramavinduer, i tillegg til takvindu. Myke og gode håndklær var det også.
As previously mentioned, nothing was missing in the cottage. The floor was warm and good with underfloor heating on the ground floor, and in the floor in the bathroom.
There were large windows so that you could enjoy the beautiful nature and the view. There was also a small kitchen, with a spacious fridge, dishwasher, coffeemachine and everything needed. In the living room was a beautiful dining table with 4 chairs. There was also a recliner, and a fan oven. There was a TV too, but we did not use it. Upstairs was the bathroom with shower and nice soap articles. There were also 2 bedrooms upstairs. With 2 beds in each room. Masterbedroom was equipped with adjustable beds with massage. And panoramic windows, as well as skylights. Soft and good towels were there too.
Som den Gentleman Tommy er, lot han meg få sove i the Masterbedroom, mens han sov i soverommet i den andre enden av hytta. Og se her da, den flotte utsikten jeg våknet til neste morgen ♥
Så er jo historien sånn da, at siden hytten ristet og svaiet i vinden, la jeg meg først i sengen nærmest døren. Men det var like ved bryterpanelet, hvor lysbryteren var opplyst med et blått lys. Og sånt er umulig for meg å sove med. Så jeg lå en stund og diskuterte med meg selv om jeg skulle tørre å legge meg helt ute ved det store vinduet i fronten? Og til slutt ble svaret ja. Og da ble alt så mye bedre. Jeg kjente ristingen like godt, men det som tok fra meg søvnen var at jeg valgte å sove uten å kjøre ned rullegardinene. For det var jo så flott å ligge der å se på utsikten, se på Lysefjorden, og lysene fra Forsand.
Til slutt sovnet jeg likevel, og våknet neste morgen til denne magiske utsikten ♥
As the Gentleman Tommy is, he let me sleep in the Masterbedroom, while he slept in the bedroom in the other end of the cabin. And have a look here, the great view I woke up to the next morning ♥
The story is like this: since the cabin shook and swayed in the wind, I first lay down in bed closest to the door. But it was close to the switch panel, where the light switch was illuminated with a blue light. And that's impossible for me to sleep with. So I discussed with myself whether I should dare to lie down completely near by the large window in the front? And in the end, the answer was yes. And then everything got so much better. I felt the shaking just as well, but what took away my sleep was that I chose to sleep without running down the blinds. Because it was so great to lie there to look at the view, look at the Lysefjord, and the lights from Forsand.
Eventually I fell asleep anyway, and woke up the next morning to this magical view ♥
Her er de to soverommene, pluss litt av badet. Godt utnyttet plass i den lille hytta 🙂
Here are the two bedrooms, pluss a part of the bathroom. The space in the small cabin is well spent 🙂
Selv om vi hadde et godt utstyrt kjøkken, ble det ikke til at vi laget mat her denne gangen. Til det var tiden for knapp, pluss at vi glemte å gå innom butikken på veien hit, som vi først hadde tenkt. Litt kaffelaging ble det jo da, pluss at kjøleskapet ble benyttet til medbragt drikke.
Although we had a well equipped kitchen, we did not cook here this time. Time was too short, plus we forgot to stop by the store on the way here, as we had planned. There was a bit of coffee making then, plus the fridge was used for drinks we had brought.
Så frokosten ble litt spesiell. Jeg hadde tilfeldigvis med to energy bars. Så da tok vi en hver av det, pluss hver vår drikke, kaffe, cola og redbull 🙂 Og denne fantastiske frokosten nøt vi med en magisk utsikt ♥
So the breakfast was a little special. I happened to have two energy bars. So then we took one each of it, plus each our drink, coffee, cola and redbull 🙂 And this wonderful breakfast we enjoyed with a magical view ♥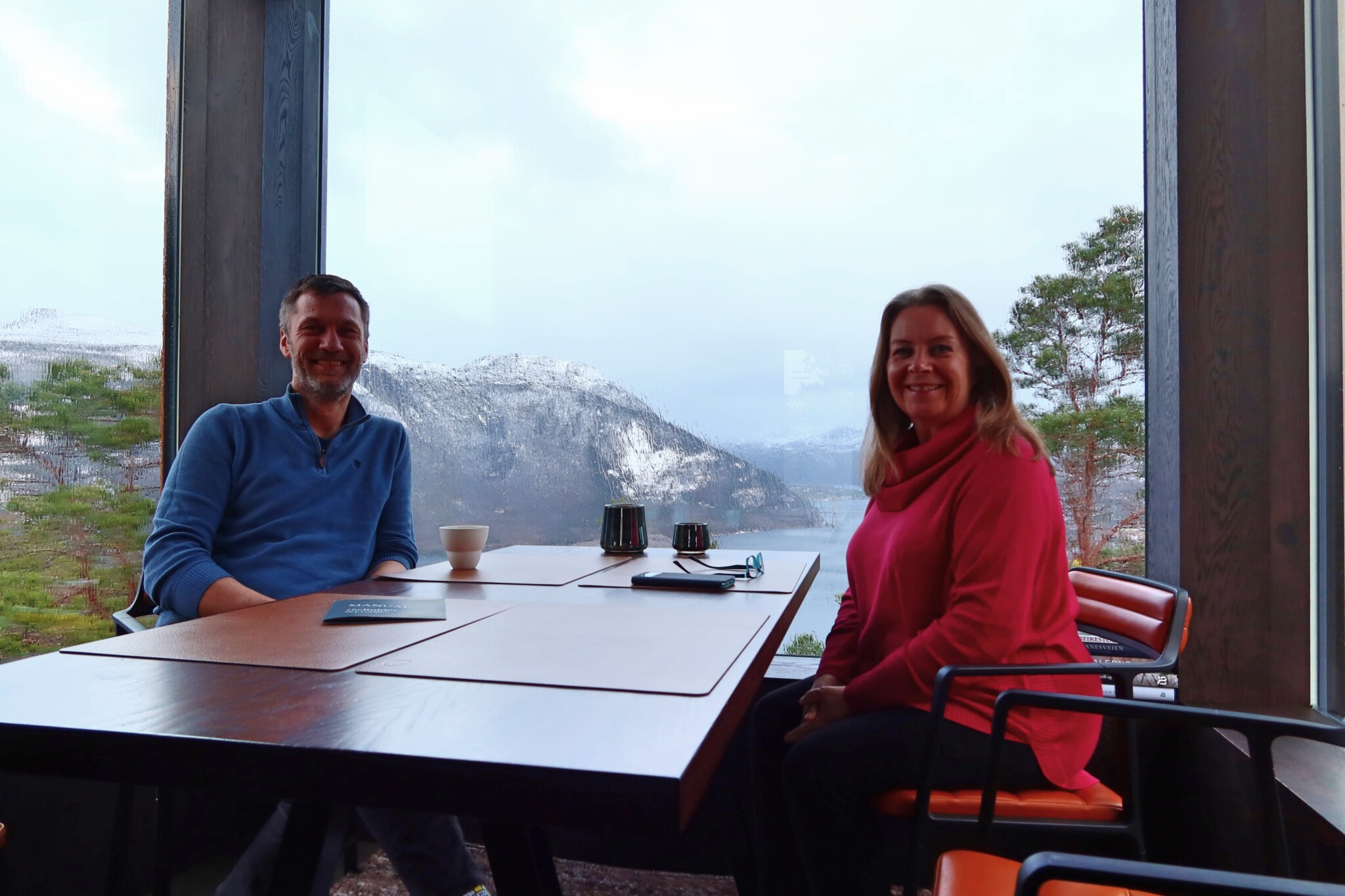 Det var utrolig flott å sitte der, ytterst på kanten på en måte, med den utsikten, god prat og bare ha det hyggelig. Det ga en fin meditativ følelse, veldig avslappende.
It was incredibly nice to sit there, at the very edge in a way, with that view, good chat and just have fun. It gave a nice meditative feeling, very relaxing.
Det var dessverre ikke et langt opphold. Men kvaliteten var veldig god, og jeg drømmer om en gang å komme tilbake for å oppleve det hele igjen. Gjerne på en annen årstid også 🙂
Unfortunately it was not a long stay. But the quality was very good and I dream of coming back to experience it all again. Preferably at another time of year too 🙂
Jeg føler meg skikkelig heldig som ble spurt om å være med på denne overnattingen. Gode venner er gull ♥
Tusen takk Tommy, for at du kom på å spørre meg om å være med. Jeg koste meg veldig 😀
Dette var for meg en unik opplevelse som jeg aldri kommer til å glemme, og denne skal jeg leve lenge på 😀
Heldige de som har råd til å dra hit når de har lyst ♥
I feel really lucky to have been asked to join this overnight stay. Good friends are gold ♥
Thank you very much Tommy, for asking me to join. I enjoyed myself a lot: D
This was for me a unique experience that I will never forget, and I will live on this for a long time: D
Lucky those who can afford to go here whenever they want ♥
Tommy jobber i WoodLink AS som har levert materialer til dette prosjektet.